Kate Dyer Seeley is known for her Pacific Northwest cozy mysteries, which Scene of the Climb is the first. They are fun and easy reads that will stand alone.
So, put on your climbing gear and let's get started.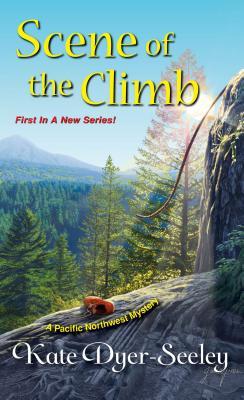 MY ONE SENTENCE REVIEW
Meg is afraid of heights and many outdoorsy things, but she is like a dog with a bone and sifts through the list of suspects that kept me guessing and kept the mystery alive in this fun cozy.

3 Stars
GOODREADS BLURB: Portland, Oregon, is the perfect fit for someone like Meg Reed. It's a city with a small town feel, where she can crash on the couch of her best friend Jill, now that she's graduated from journalism school. . .
But a girl needs a job, so Meg bluffs her way into writing for Northwest Extreme magazine, passing herself off to editor-in-chief Greg Dixon as an outdoor adventure enthusiast. Never mind that Meg's idea of sport is climbing onto the couch without spilling her latte. So when she finds herself clawing to the top of Angel's Rest--a two-thousand-foot peak--to cover the latest challenge in a reality TV adventure show, she can't imagine feeling more terrified. Until she witnesses a body plummet off the side of the cliff. Now Meg has a murder to investigate. And if the climbing doesn't kill her, a murderer just might. . . Includes Adventure Guides!
You may see my Giveaways HERE.
You can see my Reviews HERE.
If you like what you see, why don't you follow me?
Thanks for visiting!
I have also read and reviewed Silenced in the Surf by Kate Dyer Seeley. You can see it HERE.
Save
Save
Save