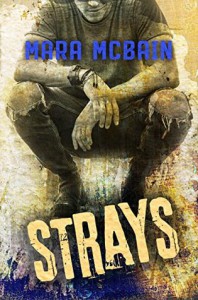 Strays by Mara McBain is one of those gems that could easily slip through the cracks.
If you are looking for a feel good book for the holiday season, look no further.
Goodreads / Amazon US / Amazon UK / Amazon CA
MY REVIEW
"I'll risk it. We all go through shit. We can either sit down and cry, self medicate, or let it roll off and keep trying."
A good deed done, and Jarek pays it forward, just when Cali needed a friend.
"Strays like us need to stick together."
My feelings were all over the place, leaving me feeling dirty, wanting a shower, yet making me smile and want to hug the characters. It makes me feel hope for mankind. That there are more good people than bad people.
Even though the sex is a bit graphic, erotic, it is so sweet and loving, it gave me a warm, loving feeling.
I cannot imagine what it would be like to grow up without your parents, but this horrendous story of the foster care system makes me fear, not just for the characters.
I could see a totally different outcome for these two young people growing up in the system and turning out 'bad', but they managed to rise above their past into loving, giving, 'normal' grown ups.
"I think a lot of people underestimate the power of laughter. Couples that laugh together, stay together."
I so much agree with this. To me, laughter is very powerful…and necessary.
"You don't keep score in love."
When theyy came home from seeing the Fourth of July fireworks, my feelings caught in my throat. Thank goodness it wasn't what I thought, but Mara McBain sure gave me a feeling of panic with her writing.
Such a touching story, the writing having my feelings running riot. Hit all the buttons. Realistic, heartbreaking and heartwarming, with characters that shine and disgust in a realistic fashion. I have to give it a rousing five star rating and if you're looking for something to wake you up and slap you around, give it a try.
I won a signed ARC of Strays by Mara McBain and I am so happy I did. Thank you Mara.
5 Stars