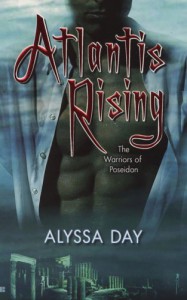 I love anything to do with water, so when I was given the opportunity to dive into Atlantis Rising by Alyssa Day, I was all in. Do you believe in the lost city? How about Poisedon?
Publisher: Berkley Publishing
Cover by Authors On A Dime
Amazon / Audiobook / Goodreads
MY REVIEW
Woo Hoo! Alyssa Day has certainly caught my attention with an empathic Riley Dawson and a hot group of Poseidon's warriors that are on a treasure hunt, of sorts. I know I'm all tingly and ready to go. lol
Her grief called to him. It would not be denied. He must got to her.
The mental telepathic dialogue had me cracking up, so I put a smile on my face and prepared myself for a fun, sexy read. I mean, she's an empath and he's a high prince, the first of Poseidon's warriors, so what could possibly go wrong.
"You're not going to drink my blood or rip my arms off, are you? Because my day has really sucked, and I'm so not up for that," she said…
Barrabas, a powerful vampire, felt the disturbance caused by their meeting. Oh man, so cool. Water warriors and blood sucking Vampires. What more could I want? I am hooked and happy.
Everything Conlan does is for Atlantis, so denying his overwhelming desire for Riley, who is not only a forbidden human, but also an empath, literally brought him to his knees. Conlan and his warriors were tasked with protecting the humans from shapeshifters and vampires, and were clearly from the Land of Hunk.
I am feeling upbeat, having fun, sharing Conlan and Riley's internal dialogue and lovin ' every minute of it. And now we find out why they are above ground…Poseidon's Trident has been stolen. Conlan could lose his kingdom if they don't recover it.
"You're not a vampire, because you've got a heartbeat," she said. "Are you a shapeshifter? What kind of furry are you going to get?" He laughed. "I'm not going to turn furry, brave one. I am nothing you know."
Conlan knows that empaths don't exist, yet here's Riley. He also knows that the soul meld doesn't exist, yet how to explain the sparks between them.
Well, Alyssa, you drew me in, kept me riveted to the pages, worrying and fretting, laughing and smiling, never letting me go. The action kept the story flowing as I devoured the words. The world created was full of wonder and I am so happy to have been able to visit Atlantis and meet all these fabulous characters that escaped from the mind of Alyssa Day.
I voluntarily reviewed a free copy of Atlantis Rising by Alyssa Day.
4 Stars