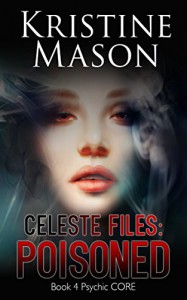 All right. I confess. I am a huge fan of Kristine Mason and I am delighted to share the final story of the Celeste Files: Poisoned.
Like a good ghost story? Like some romance and thrills with your paranormal?
Then you won't want to miss this stand alone series.
.
MY REVIEW
Kristine Mason writes some of the best suspense stories I have ever read, whether paranormal or mystery, and I was amazed…again…at her ability to take a ghostly story and make it read like a horror novel.
Celeste is psychic but she kept pretty quiet about it, helping out whenever she could.
Heavily pregnant, Celeste received a call for her sister, Eden, for help.
The gene had skipped Eden and had caused a rift between her and Celeste, but when events began happening at her new home, she felt Celeste was the one to call.
The house Eden and her husband had bought is haunted.
"You chase murderers for a living, I write about them…It's fitting that we live in a murder house."
Celeste thought she could handle the ghosts, stay grounded and in the land of the living.
It seems like she is learning more about her abilities by "living' through new experiences. Could her over confidence in dealing with situation be her undoing? Would she come out of the trance or push her luck one too many times? And this time, her unborn baby's life is at stake.
Celeste walked in the ghostly world trying to put the pieces together. She talked to the ghosts, but they were so cryptic it was hard to decipher their meaning.The mysterious deaths and the evil presence that resided in the house did not give up their answers easily.
What was HE after?
Her mantra, "the living are more powerful than the dead," kept her grounded making her believe she could survive the evil surrounding her and release the ghosts from their torment.
Could her over confidence in dealing with the situation be her undoing? Would she come out of the trance or push her luck one too many times?
I love Celeste's hubby, John. It took a while for them to work out some of the kinks in their marriage, but he is attentive, loving and funny. I can see him waggling his eyebrows as he offers to shave her bikini line.
I love Kristine Mason's ability to surprise me and roil my emotions. The level of suspense in her writing kept me on pins and needles, afraid that this time Celeste had bitten off more than she could chew.
The characters come alive on the pages, making me feel their pain and suffering, their fear and anger, their sadness and regret. They are not always series and in danger, they have lives us normal people can relate to, with all the daily issues and problems that arise. They can be funny and happy, loving and giving, even when dealing with murder and danger.
I'm smiling, teary eyed…
I love the television show Ghost Whisperer with Jennifer Love Hewitt and I can see that she has met her match in Celeste.
I never pass on an opportunity to read one of Kristine Mason's novels and if you are a suspense and thriller lover like me, I think you will feel the same. I am patiently waiting for the movie/TV world to find her.

5 Stars
Read more HERE.